Product Description
Rubber flexible  excavator spare parts FLE-PA coupling for excavator
Product Description:
 
1.Coupling for excavator
2.Model:all kinds of excavator
3.Factory supplied/ wholesaler
4.Quality:high quality and general quality
5.More than 25  years history.Professional,specialized in shaft coupling
6.Short delivery time & competitive price
7.Small order allowed
Descrition:
 
1. Material options for H series Couplings
H series coupling we produced is made of Hytrel. It has elasticity like that of rubber. It is excellent in absorbing vibrations and shocks. It also excels in resistance to heat, low temperature and oil.
 
2. Input and output can be connected and disconnected easily merely by moving axially. By using a unique claming mechanism, mounting in a spline shaft is possible. Hub and spline shafts are completely fixed by using a clamping hub of the mechanism. No fretting wear is caused.
Product show:
Engine Driven Coupling Technical Data:
CF-H COUPLING "H" SERIES TECHNICAL DATA
SIZE
30H
40H
50H
110H
140H
160H
TECHNICAL DATA
DESCRIPTION
SYMBOL
UNIT
500
600
800
1200
1600
2000
Nominal Torque
Tkn
Nm
Maximum Torque
Tkmax
Nm
1400
1600
2000
2500
4000
4000
Maximum Rotational speed
Nmax
Min-1
4000
4000
4000
4000
3600
3600
CF-A COUPLING "A" SERIES TECHNICAL DATA
SIZE
4A/4AS
8A/8AS
16A/16AS
25A/25AS
30A/30AS
50A/50AS
140A/140AS
TECHNICAL DATA
DESCRIPTION
SYMBOL
UNIT
50
100
200
315
500
700
1700
Nominal Torque
Tkn
Nm
Maximum Torque
Tkmax
Nm
125
280
560
875
1400
2100
8750
Maximum Rotational speed
Nmax
Min-1
7000
6500
6000
5000
4000
4000
3600
 
Other parts we supply:

Package & Shipping
Shipping: By express(DHL,FEDEX,TNT,UPS, EMS), By air, By sea.
Package: Carrier packing or Neutral packing ,Packing as your demand.
FAQ
Q1What is your packing?
A: Generally, we pack our goods in carton box or wooden case.
Q2What is your terms of payment?
A: We accept L/C, T/T, Western Union, Paypal, Money Gram, etc.
Q3What is your terms of delivery?
A: EWX, CIF, FOB, etc
Q4How about your delivery time?
A:We will arrange the shipment within 3 days after recieve the payment.
Q5Do you test all your goods before delivery?
A: Yes, we have 100% test before delivery.
Q6. What is your international express way?
A: TNT,DHL ,UPS, FedEx ,EMS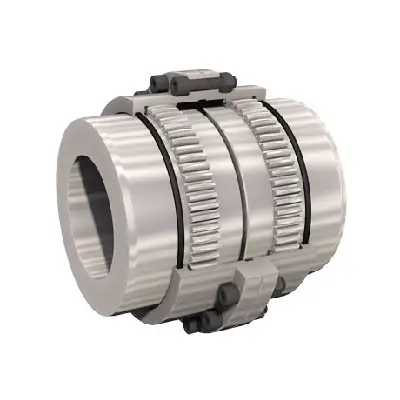 How Does a Gear Coupling Protect Connected Equipment from Shock Loads and Vibrations?
Gear couplings are designed to provide excellent protection to connected equipment from shock loads and vibrations, making them ideal for use in demanding and heavy-duty applications. The design and features of gear couplings that contribute to this protection include:
Flexible and Rigid Elements: Gear couplings consist of two hubs with external gears that mesh together. Between these two hubs, there is a center sleeve with internal gear teeth. The center sleeve acts as a flexible element, while the outer hubs act as rigid elements. This combination allows the gear coupling to transmit torque while absorbing and dampening shock loads and vibrations.
Misalignment Compensation: Gear couplings can accommodate angular, parallel, and axial misalignment between shafts. When the connected equipment experiences misalignment due to dynamic forces or shock loads, the gear coupling can flex and adjust to these changes, preventing excessive stress on the shafts and equipment.
High Torsional Stiffness: Gear couplings offer high torsional stiffness, meaning they have minimal angular deflection under load. This stiffness helps maintain precise alignment and reduces the likelihood of damage to the connected equipment caused by misalignment-induced vibrations.
Load Distribution: The toothed gear design of gear couplings ensures a large surface area of contact between the gears. This spreads the torque evenly across the gear teeth, resulting in a uniform distribution of load and reducing the concentration of stress on specific areas.
Damping Characteristics: The flexible center sleeve in the gear coupling acts as a damping element that absorbs and dissipates vibrations, further protecting the connected equipment from harmful oscillations.
High-Speed Balancing: Gear couplings are precisely balanced during manufacturing to minimize vibrations and ensure smooth operation even at high speeds. Proper balancing helps prevent resonances and reduces the impact of shock loads on the connected equipment.
By effectively absorbing and dampening shock loads and vibrations, gear couplings extend the life of the connected equipment and surrounding components, reduce maintenance requirements, and contribute to a more reliable and efficient mechanical system. However, it is essential to select the appropriate size and type of gear coupling based on the specific application and operating conditions to ensure optimal protection and performance.



editor by CX 2023-09-21