Product Description
Customized high quality Nylon Sleeve Flexible gear shaft coupling for hydraulic pump coupling
 
Product Description
1. Completely interchangeable with the original
2. Suitable for various mechanical engineering and hydraulic fields
3. Nylon and steel material match, maintenance-free
4. Can compensate axial, radial, and angular installation deviation
Product Parameters
SIZE
MOLD
TOOTH
TORQUE
(H.)
SPEED
(r/min)
MAIN SIZE
SHAFT DIA
(d1, d2)
SHAFT LENGTH
(L1,L2)
L
D
H
D1 D2
E
NL2
1.5/1
28/42
100
6000
9-22
20-45
CUSTOMIZED
55
40
36
4
NL3
1.5/1
34/25
160
6000
9-28
20-60
66
41
38-50
4
NL4
1.5/2
45/32
250
6000
12-38
25-80
84
47
50-60
4
NL5
2
38/36
315
5000
15-42
30-110
93
50
60-67
4
NL6
2/2.5
40/32
400
5000
16-48
40-110
100
51
60-70
4
NL7
2.5/2
36/45
630
3600
16-55
45-110
115
56
70-82
4
NL8
2.5/3
36/45
1250
3600
20-65
50-140
140
70
85-95
4
NL9
3
45/46
2000
2000
20-80
60-170
175
91
120
6
NL10
4
44
3150
1800
38-100
70-210
220
105
157
8
Related Products
Company Profile
FAQ
Q: Can you make the coupling with customization?
A: Yes, we can customize per your request.
Q: Do you provide samples?
A: Yes. The sample is available for testing.
Q: What is your MOQ?
A: It is 10pcs for the beginning of our business.
Q: What's your lead time?
A: Standard products need 5-30days, a bit longer for customized products.
Q: Do you provide technical support?
A: Yes. Our company has a design and development team, and we can provide technical support if you
need.
Q: How to ship to us?
A: It is available by air, sea, or by train.
Q: How to pay the money?
A: T/T and L/C are preferred, with different currencies, including USD, EUR, RMB, etc.
Q: How can I know if the product is suitable for me?
A: >1ST confirm drawing and specification >2nd test sample >3rd start mass production.
Q: Can I come to your company to visit?
A: Yes, you are welcome to visit us at any time.
Q: How shall we contact you?
A: You can send an inquiry directly, and we will respond within 24 hours.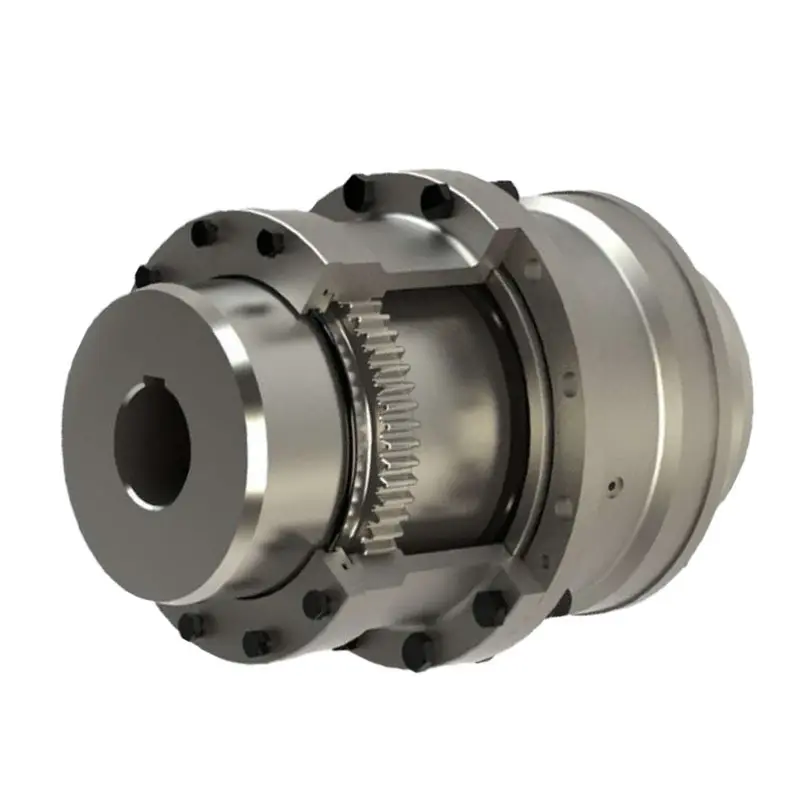 How Does a Gear Coupling Handle Angular, Parallel, and Axial Misalignment?
Gear couplings are designed to handle various types of misalignment, including angular, parallel, and axial misalignment. Here's how they handle each type:
Angular Misalignment: Angular misalignment occurs when the two connected shafts are not collinear and form an angle with each other. Gear couplings can accommodate angular misalignment due to the flexibility of their gear teeth. The gear teeth allow a slight angular movement between the shafts without causing significant stress on the coupling.
Parallel Misalignment: Parallel misalignment occurs when the two connected shafts are offset along their axis but remain parallel to each other. Gear couplings can handle parallel misalignment to some extent due to the slight axial movement allowed by the gear teeth. However, for larger parallel misalignments, special gear couplings with spacer elements or other features may be required.
Axial Misalignment: Axial misalignment occurs when the two connected shafts are not in the same axial plane and have an offset along their length. Gear couplings can handle a certain degree of axial misalignment because the gear teeth can accommodate small axial movements without causing damage to the coupling or connected equipment.
The ability of gear couplings to handle misalignment is one of their key advantages over other types of couplings. The gear teeth act as flexible elements that can compensate for minor misalignments, reducing the stress and wear on the coupling and the connected equipment. However, it is essential to ensure that the misalignment remains within the allowable limits specified by the coupling manufacturer to maintain optimal performance and reliability.



editor by CX 2023-10-12